Cactus Silk Pillow By Wild Throw Co. - Lilac
Regular price

$50.00

Sale price

$40.00
Introducing our exquisite Cactus Silk Pillow by Wild Throw Co. in the soft and enchanting shade of Lilac. These artisanal cushions, meticulously handcrafted in Morocco, blend opulence with ethical craftsmanship to adorn your spaces with grace.
🏡 Elevate Your Home: These cactus silk pillows transcend mere decor; they are a reflection of your style and taste. Whether they grace your sofa, bed, or outdoor nook, they bring Moroccan elegance to your home.
🌵 A Natural Wonder: Crafted from natural fibers harvested from the Sahara Agave cactus, these pillows celebrate the beauty of the desert. The Lilac hue adds a touch of serenity to your surroundings.
📐 Unique Dimensions: Each pillow measures approximately 45 x 50 cm (20" x 20"). Handmade with care, every piece possesses its own character, making it an exclusive work of art.
✨ Refined Details: Embellished with graceful gold brass zip closures, these pillows exude an air of luxury that enhances your decor.
🧼 Care Instructions: To maintain their lasting beauty, these Cactus Silk pillows require dry cleaning.
🪑 Versatile Styling: Whether you're perfecting your home's ambiance, planning a picnic, or enhancing your bed's comfort, these pillows are versatile companions for all occasions.
🪡 Handcrafted Excellence: Ethically handmade by skilled artisans in Morocco, these pillows represent the skill and dedication of local communities. Embrace the subtle variations in size, stitching patterns, and colors as they accentuate the uniqueness of each cushion.
🪙 Insert Not Included: Please note that the insert is not provided. We recommend using a 50cm x 50cm (20" x 20") insert for these pillows.
Envelop your living spaces in the serene charm of Morocco with our Cactus Silk Pillow in Lilac. It's more than just a pillow; it's a tribute to craftsmanship, sustainability, and enduring elegance. 🌵🏡✨
Hurry, only 7 items left in stock!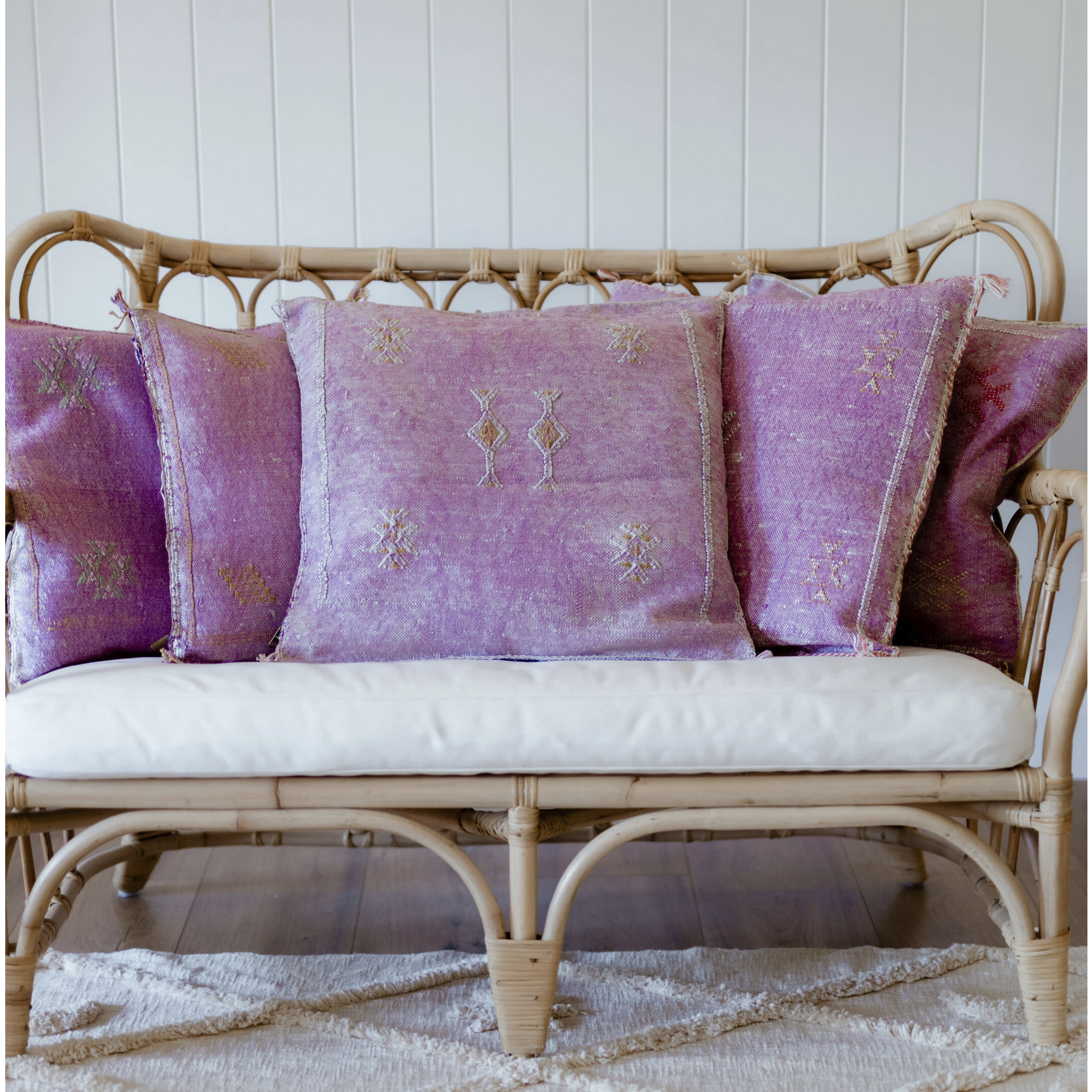 Our Products
Designed in South Australia

Ethically handcrafted in India & Morocco

For every order placed, we plant one tree with One Tree Planted