Wild Bloom Rug by Wild Throw Co. - Cream
Regular price

$105.00

Sale price

$78.75
Elevate your home decor with our exquisite throw rug, perfectly blending boho styling with the utmost comfort.
🏡 Home Decor Essential: This throw rug is the perfect addition to your home decor. Its intricate embellishments and natural cotton composition bring a touch of bohemian style to any room.
🌼 Versatile Use: Whether you're at home, planning a picnic, relaxing in bed, or soaking up the sun at the beach, this rug is your go-to companion.
📏 Generously Sized: Measuring 120 x 170cm (48'' x 66'') and weighing just 1.2kg (2.5lbs), it's large enough for all your needs, yet lightweight and easy to carry.
🌿 Natural Comfort: Crafted from 100% natural cotton, this rug is more than just a decor piece; it's a cozy essential for your moments of relaxation.
🧼 Easy Maintenance: Cleaning is a breeze with spot cleaning or gentle hand washing. If your Washing Machine has a gentle or delicate cycle, it's safe to machine-wash. Check out our IG Care Info highlights for a tutorial.
🌟 Exclusive Design: This rug is exclusive to Wild Throw Co. and proudly designed in South Australia, ensuring you get a unique piece of home decor.
🤝 Ethical Craftsmanship: It's ethically handmade by artisans in India. Please note that these rugs are not machine-made items, which means they may have charming imperfections that celebrate their handcrafted nature.
🎨 Nature's Palette: Dyed with natural vegetable, plant, and tree matter, each rug may feature slight variations in coloring, making it a one-of-a-kind piece.
🌍 A Journey of Artistry: These throws are meticulously trimmed, embroidered, sewn, and tassels intricately woven by hand. After their artistic creation, they journey across the ocean to find their place in your home. With a little love and care, they're designed to be cherished for years.
Discover the perfect fusion of home decor, boho styling, and throw rugs with our exclusive Wild Throw Co. creation. Elevate your space and comfort today. 🏡✨🌼
Hurry, only 9 items left in stock!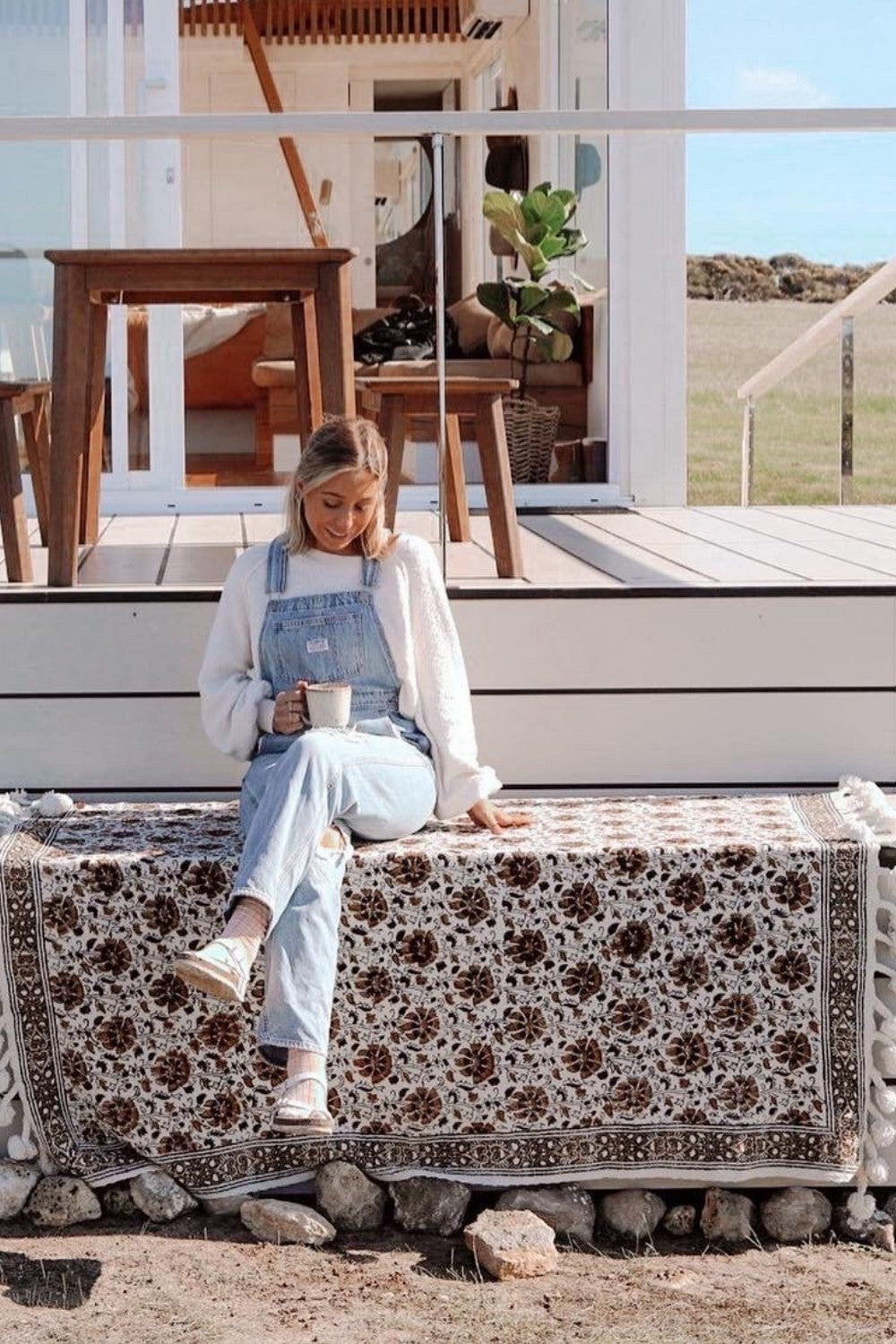 Our Products
Designed in South Australia

Ethically handcrafted in India & Morocco

For every order placed, we plant one tree with One Tree Planted